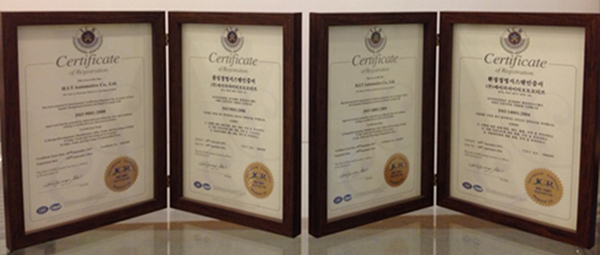 In 2009, they decided to move the Headquarters, as a result of the big increase in size of company. In July, they opened the laboratory for new technology, in order to get the new things and innovation for future. The minister for small & medium firm has awarded with the nominative "The innovation technology firm" and had certification of "ISO 9001" and "ISO 14001".
In the end, it had a title "Venture Business Company" and also this year, the company awarded the trophy with 30 million dollars export H.I.T Automotive opened the new year with a very important page of their book. The first month of the year, became a member of the official suppliers BMW Germany. It was the first time in the Asian region to have a contract directly from BMW Germany in the press tooling industry. It was a memorial issue and the result of 10 years of work. There were 4 guys, but after 10 years, are about fifty guys working and the capital arrived over $ 2 million. It was April of 2010.
HIT Automotive always sees different demands from European Customers, especially German OEM based Customers, which was not feasible & realistic in Korean tooling industry by that time. So, they decided to make the manufacturing department of H.I.T Automotive in Kunsan city and started to study its own innovated & precise manufacturing way. This is the way called "Build Up & Saving Q-loops" by making its own simulation set up as same as the reality and preparing all the tool components independently at the same time. From that moment, H.I.T Automotive began to think that their own workshop.